The Saddest National Anthems in the World
Our latest Freakonomics Radio podcast, "The Suicide Paradox," (You can download/subscribe at iTunes, get the RSS feed, or read the transcript here) investigates the mystery of suicide.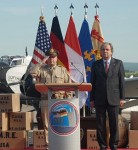 Photo: The U.S. Army
Our Virgil in the journey was David Lester, a professor at Richard Stockton College of New Jersey and the dean of suicide studies. Lester is prolific: he has over 1000 citations regarding suicide on a wide range of topics, from quirky informal studies to serious stats. He's written about which day of the week suicide occurs the most, what blood type suicide rates are associated with, and whether suicide rates are higher in nations with greater rainfall.
One of our favorites by Lester is "National Anthems and Suicide Rates." Here's the abstract:
In a sample of 18 European nations, suicide rates were positively associated with the proportion of low notes in the national anthems and, albeit less strongly, with students' ratings of how gloomy and how sad the anthems sounded, supporting a hypothesis proposed by Rihmer.
We've mapped the results of Lester's paper in the interactive graphic below: