Banana Arbitrage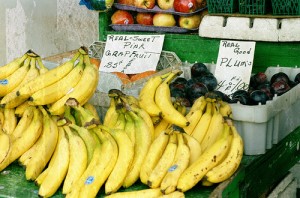 Photo: jetheriot
Bananas are a popular topic on this blog. In February, a reader wrote in with this odd banana stand pricing phenomenon. And in 2008, Dubner explored the potentially tenuous economics of the far-flung fruit.
I've recently run across something similar to the banana stand case: the Starbucks closest to my apartment now sells bananas at the counter for $1 each, while right outside the door, a fruit stand sells them for 25 cents each, or 5 for $1. And the fruit stand bananas are always better looking than the ones at the Starbucks register.
Now, I can't say I've ever seen anyone buy one of the Starbucks bananas. I certainly try to watch when I'm in there, but for a store as carefully orchestrated as Starbucks, I can't imagine that they would waste counter space on a product that doesn't sell. Though maybe with the huge margin they presumably get on each banana, they have to sell just one or two to justify it.
So, ideas for banana arbitrage, anyone? Also, what other examples can you think of where huge price discrepancies for the same product exist in such close proximity?