Did Blackberry Outages Cut Abu Dhabi Traffic Accidents by 40 Percent?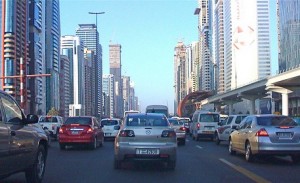 Photo: bettyx1138
A three-day Blackberry service outage last week in parts of the United Arab Emirates once again demonstrates the value of "distracted driving" laws. According to an article in The National, an English-language paper in Abu Dhabi, traffic accidents in Dubai last week fell 20 percent from average rates on the days when BlackBerry users were unable to use its messaging service. In Abu Dhabi, the number of accidents last week fell 40 percent, and there were no fatal accidents. According to the article, on average there is a traffic accident every three minutes in Dubai, and a fatal accident every two days in Abu Dhabi.
Abu Dhabi recently launched a campaign against cell phone use while driving and plans to use electronic evidence in traffic cases. The article quotes the chief of Dubai Police as saying, "We have the capability to know who sent what when, and if an accident occurs while someone was messaging we will prove it and present the electronic evidence to the Public Prosecutor, and charge the driver with the costs of retrieving that evidence".
On a side note, we'd love to see a study comparing the rates of traffic incidents across service providers in the U.S. — we suspect AT&T iPhone users must be extremely safe drivers, relative to Verizon that is.