Bring Your Questions for Mara Hvistendahl, Author of Unnatural Selection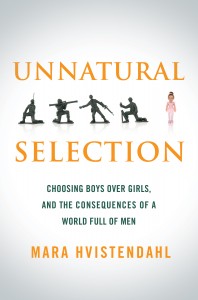 Mara Hvistendahl's research features prominently in our latest podcast, "Misadventures in Baby-Making." Her book, Unnatural Selection: Choosing Boys Over Girls and the Consequences of a World Full of Men, looks at how advancements in prenatal technology have led to extreme cases of gender selection across much of Asia.
As economic development spurs people in developing countries to have fewer children and gives them access to technologies such as ultrasound, parents are making sure that at least one of their children is a boy. As a result, sex-selective abortion has left more than 160 million females "missing" from Asia's population. It's estimated that by 2020, 15 percent of men in China and northwest India will have no female counterpart. The consequences of that imbalance are far-reaching and include rises in sex-trafficking, bride-buying and a spike in crime as well.
Mara is currently a Beijing-based correspondent for Science. She has kindly agreed to answer your questions on her book and research. So, as always, fire away in the comments section, and we will post her replies in due course. In the meantime, here is the table of contents of Unnatural Selection.
Part One: "Everyone Has Boys Now"
Chapter One: The Demographer
Chapter Two: The Parent
Chapter Three: The Economist
Chapter Four: The Doctor
Chapter Five: The Imperialist
Part Two: A Great Idea
Chapter Six: The Student
Chapter Seven: The Doomsayer
Chapter Eight: The Geneticist
Chapter Nine: The General
Chapter Ten: The Feminist
Part Three: The Womanless World
Chapter Eleven: The Bride
Chapter Twelve: The Prostitute
Chapter Thirteen: The Bachelor
Chapter Fourteen: The World
Chapter Fifteen: The Baby
This post is no longer accepting comments. The answers to the Q&A can be found here.