How Will Sean Payton's Injury Affect the Saints' Offense?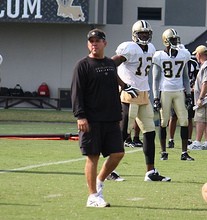 Photo: vamostigres
On Sunday, in a game against the Tampa Bay Buccaneers, New Orleans Saints head coach Sean Payton tore his MCL and fractured his knee when one of his own players was tackled out of bounds and crashed into him on the sideline. You can watch the replay here if you have a thing for gruesome knee injuries.
Payton is the rare NFL head coach who still calls the offensive plays, so the injury presented a pretty big problem for the Saints, especially since it happened early in the first quarter. Rather than going to the training room, Payton gutted it out on the sideline and kept calling plays while trainers tended to his knee. By halftime though, with the Saints trailing 20-10, Payton had had enough and passed play-calling duties over to his offensive coordinator Pete Carmichael.
It's tough to say what effect the injury had on the Saints' offense Sunday; they lost 26-20. By the numbers, the Saints' output was fairly even through the first to second half. They scored ten points in each half, and gained 228 yards in the first, and 216 in the second. Quarterback Drew Brees threw two interceptions in the first half, and one in the second.
Payton had surgery on Monday, and while he'll still be calling plays, he'll be doing so from the booth instead of the sideline while his knee heals, which could take the rest of the season. What effect might that have on the Saints? Well, according to research by Aaron Wilson at National Football Post, only five teams last year called plays from the booth. And of the top ten scoring offenses in the NFL last year, only the Atlanta Falcons called plays from the booth. The rest called their plays from the sidelines, where the view may be worse, but the feedback from the field is more immediate, and probably more valuable than the bird's eye view of the field.
In terms of total offense, which is measured in yards, none of the top 10 offenses in 2010 had their play-caller in the booth. Last year the Saints ranked sixth overall in total offensive yards. So far this season, they rank second. I'm betting that's not where they'll finish the season.