Introducing "Football Freakonomics" on the NFL Network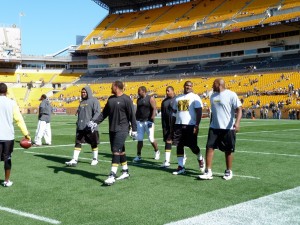 As readers of this blog know, I like the NFL quite a bit (although not, for whatever reason, college football). I have written about players from the past like John Unitas and Franco Harris; I also love to follow the modern NFL and all its tricky issues.
So I'm thrilled to be hosting a new segment on the NFL Network called "Football Freakonomics." We did a short program together for the NFL Draft, called "The Quarterback Quandary," and now we're partnering up for an ongoing set of segments. The first Football Freakonomics feature will air this Sunday on the network's "NFL GameDay Morning." We'll explore all kinds of issues — winning/losing, performance, salaries, etc. — and we'll lean on original research as well as the insights of many brilliant people from sport, academia, and beyond.
The first segment is titled "Is Momentum a Myth?" (If you've read the fine book Scorecasting, you may know where we're headed with this one.) I haven't seen it yet but all the NFL folks I've been working with in production are absolutely top-notch, so I'm sure they've come up with something great.