Too Much Trash? Get Rid of the Trashcans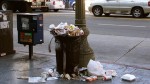 Photo: Omar Omar
New York City's Metropolitan Transportation Authority is trying a counterintuitive approach to cleaning up the subway by removing trash cans from some of its dirtiest stations. According to the New York Times, a subway stop in Queens and another in Greenwich Village have been entirely without trashcans for the last two weeks:
The idea is to reduce the load on the authority's overtaxed garbage crew, which is struggling to complete its daily rounds of clearing out 40 tons of trash from the system.

But it also offers a novel experiment: will New Yorkers stop throwing things away in the subway if there is no place to put them?
Results have so far been mixed. While one bin-less station appeared relatively clean to a Times reporter, the experiment is obviously having some knock-on effects.
A hole-in-the-wall bodega is nestled in the tile walls of the downtown platform. Its proprietor, Ranandra K. Talukder, said that since the bins were removed, he has been bombarded by riders who ask if they can throw away their trash in his store. Fiercely protective of what he deemed "my clean space," he tells them no. He keeps his own garbage bin hidden behind the counter. "Very, very nasty," he said of the platform outside his shop.

John Gaito, a subway vice president who supervises trash collection, said the no-bin pilot had had mixed results. The system's cleaner who sweeps at Eighth Street is a fan; the cleaner at Main Street in Flushing, one of the busiest in the system, is not. "He sees more trash," Mr. Gaito said of the Main Street worker.
Similar experiments have also had mixed results in other cities. While some Underground stations in London have no trash cans, Washington D.C.  abandoned its bin-less experiment because of riders' complaints.  Seems to me that removing trashcans to reduce trash is sort of akin to removing highways to reduce traffic, which has worked in some cities.