Democracy, Live and in Concert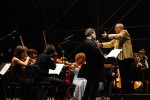 Photo: MITO SettembreMusica
At Saturday's concert by the Chamber Orchestra Kremlin, the program offered a menu for the second half:  The audience was to vote on whether it wished to hear the Tschaikovsky Serenade, the Dvorák Serenade, or Schubert's Death and the Maiden Quartet (arranged for small string orchestra). After the intermission, the conductor briefly discussed each composer and described each piece, then asked for a show of hands.
I was worried: What if a plurality favored the Schubert (my choice), but the Dvorák had been a close second, with a majority of people vehemently against hearing the Schubert performed by anything other than four string instruments? I don't imagine that second-preference voting would have been possible (fancier voting schemes regrettably generate larger transactions costs), so we would have listened to the Schubert even though more people would have been better off with the Dvorák.
Fortunately, a small majority of the audience shared my preference and we achieved the first-best (and heard a wonderful performance)!