Finally, an Investment Worth Making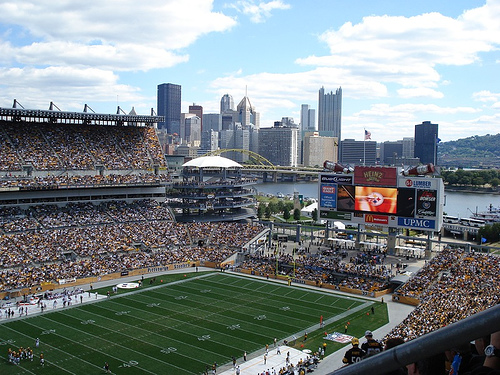 Photo: cynthiacloskey
From the Pittsburgh Post-Gazette:
In the decade since the stadium opened, the personal seat licenses or PSLs fans bought for the right to purchase season tickets have soared in value, offering a far better return on investment than the slumping stock market or even the price of a barrel of oil.

Take, for instance, a fan who bought a license for a seat in an upper level of Heinz Field for $250 in 2001. It now is selling for an average of $4,306, an increase of 1,622.4 percent, based on 2011 sales at STR Marketplace, a website authorized by the Steelers to allow fans to buy and sell seat licenses.

A seat license that went for $500 in an end zone now is selling for an average of $7,486, an increase of 1,397.2 percent. And one that sold in a lower midfield section for $2,700 when the stadium opened now is going for an average of $17,131, a jump of nearly 534.5 percent.

Taken together, the 49,278 seat licenses sold by the Steelers for an average of $1,172 since Heinz Field opened now are selling for $9,802, on average, or an increase of 736.3 percent, based on the sales data.
Granted, this is the Steelers we are talking about, a team whose on-field performance and, therefore, ticket demand has been consistently high for the past decade. Should this be Reason No. 11 to like the Steelers, or should the PSL inflation count against them? Note to young economists: a Google search of "PSL inflation" yields little about football; is PSL inflation an economic indicator worth looking at?