If You're Looking for a Deal on Tuition…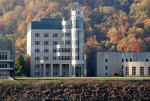 Photo: bobindrums
In stark contrast to the rest of its peers, the University of Charleston, a private university in West Virginia, recently announced a 22 percent tuition cut for new students for the fall 2012 semester. From a recent press release:
The university is guaranteeing that no undergraduate student will pay more than $19,500 for tuition next year.  This is a reduction of $5,500 or 22% from 2011-12 tuition of $25,000.  Tuition for new freshmen and undergraduate transfer students will be $19,500. Tuition for returning undergraduates next year will be $25,500, with a guarantee of at least $6,000 in university aid, ensuring that no student will pay more than $19,500 in tuition.
Edwin Welch, the school's president, says the school is "revising tuition and financial aid to reflect the real cost of a UC education," explaining that there's a significant gap between the advertised tuition and the actual tuition paid by most students at many private colleges. The university believes that the high advertised prices discourage families from applying. Welch further explains the decision here.