Shooting The Right Profile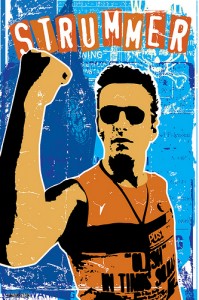 Photo: IAN RANSLEY DESIGN + ILLUSTRATION
My old band was called The Right Profile. (I talked about quitting in this radio show.) It wasn't a great name probably but we stuck with it. I did love its provenance. It came from a song on The Clash's London Calling, which is still one of my favorite records ever. "The Right Profile" was about the strange, sad life of the actor Montgomery Clift, who after a terrible car crash was shot from the right side. It was hardly the best song on London Calling — I wouldn't even put it in the top five — but you come to love the names of people and things you loved, so I always loved The Right Profile.
So I was very jazzed to learn, via Variety, that a biopic of Clash leader Joe Strummer is in the works, to be directed by Julie Delpy, and it's got a great title:
Details from The Right Profile are being kept under wraps, but the idea is to focus on Strummer's life and his planned disappearance from the public spotlight in 1982. Pic is titled after the song "The Right Profile," which appeared on the Clash's seminal 1979 album "London Calling."

An iconic figure of the British punk movement, Strummer died in December 2002, just a month before he and the Clash were inducted into the Rock and Roll Hall of Fame.
Can't wait.
(HT: Mark Ehrenkranz)