The Disadvantages of Summer Babies
A new report from the Institute of Fiscal Studies in the U.K. examines the big difference that a few months can make in the student achievement of young children. Authors Claire Crawford, Lorraine Dearden and Ellen Greaves found (along with several previous studies, like this one and this one) that children born in summer months generally score lower on standardized tests and are seen as "underachievers;" while children born in September and autumn months are more academically and socially successful. From a press release about the study:
Previous research published by the Institute for Fiscal Studies (IFS) has shown that children born at the start of the academic year achieve better exam results, on average, than children born at the end of the academic year. In England, this means that children born in the autumn tend to outperform those born in the summer. New research published today by IFS, and funded by the Nuffield Foundation, shows that month of birth also matters for other characteristics and outcomes of young people growing up in England today.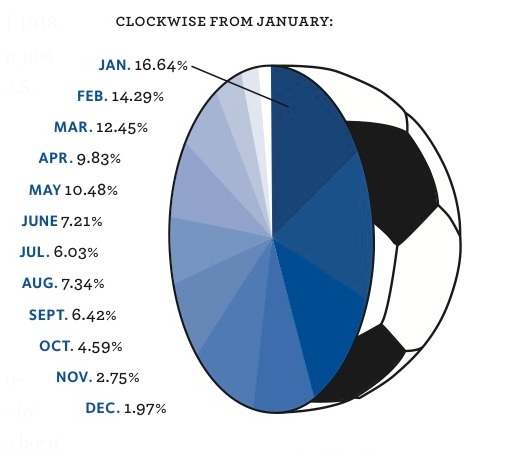 The idea that small age gaps can have big impacts is nothing new. In fact, it's something we write about in Superfreakonomics, with the birthday breakdown of European soccer players: 43 percent of players were born in the first thee months of the year, while only 9 percent were born in the final three months. Children who are a few months older than their peers at 5 or 6 have more developed cognitive and motor skills, which makes them more advanced athletes and students. This early advantage can lead to self-fulfilling prophecies later on: the child thinks she is an underachiever, and so will often play that role.
The IFS researchers found some other startling statistics: summer babies are between 20 and 30 percentage points (2.5 – 3.5 times) more likely to be considered below average by their teachers by age 7, and are 7 percentage points (2.5 times) more likely to report being always unhappy at school. They are also 6 percentage points (twice as likely) to report bullying, perhaps because of their smaller physical size.
Co-author Ellen Greaves states:  "…the government should be concerned about the wider educational experience of summer-born children, who appear to be at a disadvantage in terms of their well-being as well as their test scores."
[HT: duffmanbrown]