The Pricing Strategy of Omelets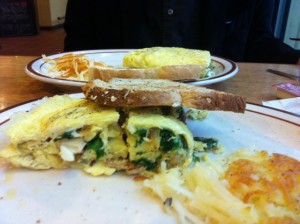 A café in Seattle offers a 3-egg omelet breakfast for $7.99, and a 6-egg omelet breakfast for $9.99. They will let two people split the 6-egg omelet, and even let the two people order one slice of different kinds of toast with the shared omelet. Is this pricing strategy crazy?
Perhaps, but unless each person would order a 3-egg omelet otherwise and pay $15.98, perhaps not. The marginal cost of making the 6-egg omelet is really just the 3 eggs, which cost much less than $2. The good deal on the shared 6-egg omelet induces a couple to split it, and stuff themselves, rather than split a 3-egg omelet, which my wife and I often do. The incentives provided by this pricing decision may actually raise the café's profits.
(HT to MH)