Can We Add Carmen and Gang Signs to the "Formerly Repugnant" List?
I have probably seen and listened to more opera than the median American, but that's not saying much. In other words, I am not very knowledgeable about opera itself, or its history and mores, etc. If I were, what I'm about to tell you probably wouldn't have come as a surprise.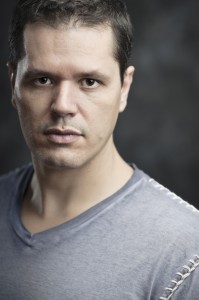 Not long ago, in an airport far from home, I met a nice fellow who turned out to be a Spanish-born tenor now living in the States, named Alvaro Rodriguez. We kept in touch and he let me know that he'd be performing with the New York Lyric Opera, playing Don Jose in Carmen. So I bought my tickets and decided to read up on Carmen since: a) I didn't know the story all that well; and b) my French is spotty at best; and c) this would be a scaled-down production, with no subtitles, etc.
I'll skip quickly to the end: the production was excellent, and Alvaro is a wonderful tenor. (Also excellent were Caitlin McKechney as Carmen and Rashard Deleston as Escamillo.)
But in reading up on the show's history — here, take a look at the Wikipedia page — I learned that Carmen was given a harsh reception when it was first performed and that Georges Bizet died soon after its opening, so (like many artists) he had no idea that his work would eventually become so beloved. Carmen was initially criticized on many fronts, some musical and some cultural — but it is the latter that most intrigued me. It was thought too declasse (or, more precisely, "debauched") in part because its characters were gypsies and toreadors and low-ranking soldiers rather than the upper-crust characters who more typically populated operas.
Also: Carmen herself was (how to put this nicely?) a bit of a floozy. Whether Bizet and his librettists were taking a feminist view or a misogynist one I know not, but the idea that a free-wheeling, free-loving gypsy woman should be the lead character in an opera in the 1870's was apparently considered repugnant.
Today, of course, Carmen is one of the most popular operas in the world. This got me thinking about the membrane between what is repugnant and what is not, a topic we've explored repeatedly in our writings, often guided by the Virgil of repugnance, Al Roth. In SuperFreakonomics Illustrated
, we included an illustration of how that membrane has been repeatedly crossed throughout history: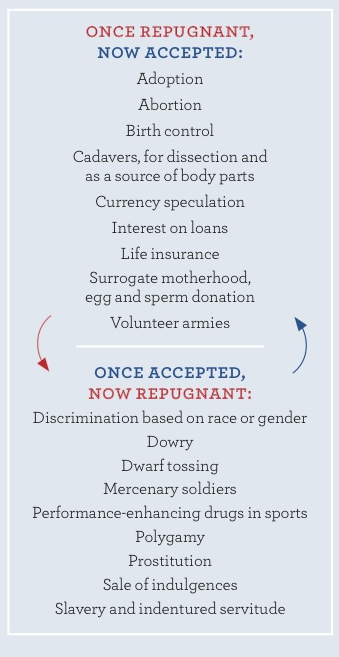 I wish I had met Alvaro in the airport before we put together this book, because Carmen (and, certainly, many more examples from music, art, etc.) would have made a nice addition to the chart.
And here's another recent nominee: gang hand signals. It wasn't long ago that you'd get called out for playing with those signs. But the other day, my daughter got in the mail a clothes catalog for summer camp, and the cover photo showed two cute little girls who looked they were auditioning for the Latin Dragons.
Strange world we're living in, people.