Got a Question for Mark Cuban? Ask Away …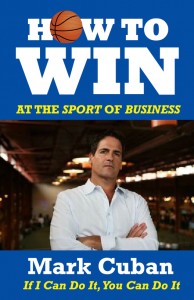 Mark Cuban is known for a lot of things: the well-timed sale of Broadcast.com to Yahoo!, which made him rich; his high-profile ownership of the Dallas Mavericks (and co-ownership of the media company 2929 Entertainment); his cameos on Entourage, and much more. (FWIW, Forbes pegs Cuban's net worth at $2.3 billion.)
Now Cuban has  published an eBook, How to Win at the Sport of Business
. It is a compilation of greatest hits from Blog Maverick. Cuban did a Q&A on our blog a few years ago and is now back for more.
So fire away with  your questions in the comments section below and, as always with Q&A's, we'll post Cuban's answers in short course.
To prime the pump, here's the table of contents from How to Win:
Introduction
PART ONE: The Dream
PART TWO: Lessons Learned: My First Business Rules
The Sport of Business
The One Thing in Life You Can Control: Effort
Scatterbrained and in College – Being Focused at 21 is Overrated
What Are You Destined to Be?
You Only Have to Be Right Once!
What I Learned from Bobby Knight
Drowning in Opportunity / Winning the Battles You Are in
Don't Lie to Yourself
The Best Equity is Sweat Equity
What Will You Remember When You Are 90?
Connecting to Your Customers
It's OK to Be a Whiner
The Path of Least Resistance
Need a Job?
Taking No for an Answer and Other Business Mistakes
Living in a Tense Economy, aka Sometimes You Have to Say "WTF!"
Why You Should NEVER List to Your Customers
Twelve Cuban Rules for Startups
Twelve Cuban Mantras for Success
This post is no longer accepting comments. The answers to the Q&A can be found here.