The Perils of Drunk Walking, South African Edition
A while back, a reader sent us this photo, with a warning you rarely see in the U.S.: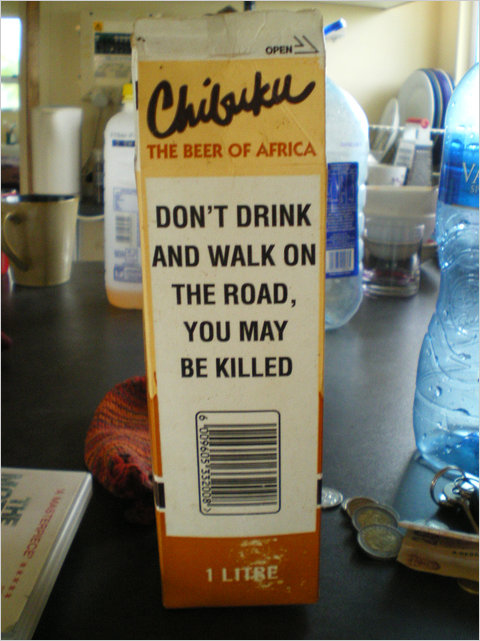 In light of our recent podcast "The Perils of Drunk Walking," we got in touch with Kon Scholtz, head of marketing and sales at United National Breweries, the South African company that makes the beer in question, Chibuku Shake Shake. Scholtz told us that Shake Shake is a nickname for traditional African beer made from maize and malt; it has a short shelf life (about five days), a relatively low alcohol content (3.5%) and, is meant to be shaken before consumption. It is also, according to Scholtz, very nutritional.
As for the warning on the carton, Scholtz explained:
In South Africa, we've got what the government calls "7 Health Warning Signs." It's recommended health warning slogans, and we as a company have the option to select any one of the 7 if we would like to put it on our product. Why we have decided "Don't Drink and Walk on the Road, You May Be Killed" is very simple. In our consumer base, it's more the rural area — and so many of them don't drive motor vehicles by themselves. If you go to the South Africa stats, you'll find that nearly half of all fatalities in motor accidents is actually pedestrians who are hit and killed by cars. We thought amongst ourselves: let's utilize this slogan, put it on the carton, have this kind of communication to our consumers to say "Hey gentlemen and ladies: please be mindful. If you drink, enjoy it but watch out you can be killed on the road."