The Strangest Price Discrimination You'll Ever See?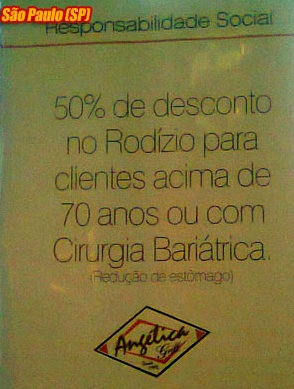 Adriano Dutra Teixeira, a Brazilian economist, sent us this photo from a restaurant. As he translates:
"Social Responsibility: 50% discount on meal for clients over 70 or bariatric surgery (stomach reduction)."
He adds:
I thought it was hilarious! So I wrote a blog post with a microeconomic approach to the promotion, using price discrimination.
I had to chuckle, in part because we're finishing up a podcast about commitment devices, in which Levitt offers some bizarre alternatives to bariatric surgery (which we wrote about here), since it is such a drastic commitment.
Further thoughts:
I wonder what proof, if any, the restaurant requires to prove bariatric surgery — a doctor's note? a receipt? a visual scar? And how will people game the system?
Who tends to eat less: the median 70-year-old or the median bariatric patient? And especially: what do they each eat less of? Since the restaurant is offering such a hefty discount, I'd  assume it's meat or some other high-cost food.
I can understand why the restaurant touts its "social responsibility" for feeding 70-year-olds at a discount, but what is the social responsibility factor of the bariatric discount? On the other hand, I guess you can't just put up a sign that says "half off for the people we suspect won't eat very much." (FWIW, Brazil is getting pretty obese.)
Does a 70-plus person who also had bariatric surgery eat for free?