Hitchhiking Gets a Hearing in D.C.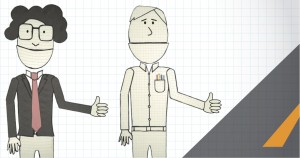 Inspired by our podcast "Where Have All the Hitchhikers Gone?," transportation scholar Alan Pisarksi organized a discussion session on the topic at the recent Transportation Research Board Annual Meeting in Washington D.C.  Pisarski, who was also featured in our episode, hoped the event would encourage scholars to apply insights from the past to current issues in transportation policy.
Pisarski lined up three presenters: David LeBlanc, the creator of Slug-Line.com, which was the first website to print the rules of slugging (i.e. organized hitchhiking);  Paul Minnett of the RideSharing Institute in New Zealand (recently featured in Miller-McCune); and transportation expert Cynthia J. Burbank. The discussion session attracted about 200 people.
Pisarski was nice enough to send us his  presentation, which you can find below. Several early pages are a tribute to his late friend Peter Koltnow, who hitchhiked 10,000 miles across the country during the 1950s and sent a postcard to his girlfriend each night. The postcards are now part of the Smithsonian's America on the Move exhibit.
[slideshow auto="on" thumbs="on"]