Work: 12% Monday, 5% Friday?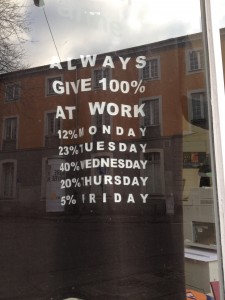 The picture on this t-shirt is a joke. It states: "Always give 100% at Work: 12% Monday; 23% Tuesday; 40% Wednesday; 20% Thursday; 5% Friday."
But it's interesting that its creator chose not to spread the work evenly across the week. His/her view of labor supply suggests a temporal dimension that seems sensible:  More work on Monday than on Friday, more on Tuesday than on Thursday, with peak work effort on Wednesday.  In terms of labor productivity, this does not seem very far wrong.