Bring Your Questions for End of Illness Author David Agus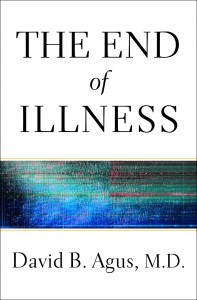 Here's an obvious but sobering thought: every one of us will someday get sick and die. And here's a happier thought: with ever-advancing medical technology and research, we can now avoid many kinds of illnesses and add more years to our lifespan.
The oncologist David Agus lives halfway between those two thoughts. He is a professor at USC, the founder of Oncology.com, a co-founder of Navigenics, and now the author of The End of Illness
. Most impressively, perhaps, he was recently a guest on The Daily Show. 
The End of Illness is Agus's take on how the body works and why it fails. Along the way, he challenges a lot of conventional wisdom about health with academic studies and his own medical experience. Arguments in the book include: that taking vitamins may increase the risk of cancer; that sitting at a desk all day may be as damaging as smoking; and that you can tell something about a patient's health based on whether she wears high-heel shoes. One review of the book reads: "A 'rock star' doctor says throw away the vitamins, load up on baby aspirin, and keep moving."
Agus has agreed to field questions from Freakonomics readers, so please fire away in the comments section below, and as always we'll post his answers in due course. To get you started, here's the book's table of contents:
Part I: The Science and Art of Defining Your Health
Chapter 1: What Is Health?
Chapter 2: A Pound of Cure
Chapter 3: Go Back to the Future
Chapter 4: Rotten Eggs and Cute Chicks
Chapter 5: Two French Restaurants, One without Butter
Part II: The Elements of Healthy Style
Chapter 6: Proceed with Caution
Chapter 7: The Truth about Synthetic Shortcuts
Chapter 8: The Fallacy of "Fresh"
Chapter 9: Hot and Heavy
Chapter 10: Running to Sit Still
Chapter 11: Timing Is Everything
Part III: The Future You
Chapter 12: High-Tech Health
Chapter 13: The Give-and-Take
Chapter 14: The Art of Doing Nothing
Conclusion: Of Mice and Men and the Search for the Master Switch
This post is no longer accepting comments. The answers to the Q&A can be found here.