Is the Future Really "Better Than You Think"? Ask the Authors of Abundance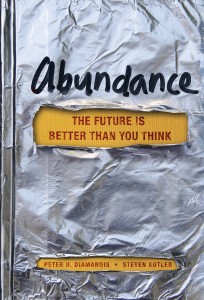 On an early episode of Freakonomics Radio, we interviewed Peter Diamandis, founder and CEO of the X Prize Foundation. He was a great (and inspirational) guest. Now he has written a book with journalist Steven Kotler called Abundance: The Future Is Better Than You Think. From the flap copy:
Since the dawn of humanity, a privileged few have lived in stark contrast to the hardscrabble majority. Conventional wisdom says this gap cannot be closed. But it is closing — fast. The authors document how four forces — exponential technologies, the DIY innovator, the Technophilanthropist, and the Rising Billion — are conspiring to solve our biggest problems. Abundance establishes hard targets for change and lays out a strategic roadmap for governments, industry and entrepreneurs, giving us plenty of reason for optimism.
This argument might, at first glance, stick in the craw of some people who believe that new technologies (like the internal combustion engine) end up punishing the planet more than they help its inhabitants. The argument might also rile those who look around the world and see too much scarcity — of energy, of clean water, of freedom — because Diamandis and Kotler argue that we are well on our way toward the opposite of scarcity in nearly every dimension that matters.
Diamandis and Kotler have agreed to take questions from Freakonomics readers, so fire away in the comments section, and as usual, we'll post their answers in short course. Here, to prime the pump, is the book's table of contents.
PART ONE: PERSPECTIVE
Chapter One: Our Grandest Challenge
Chapter Two: Building the Pyramid
Chapter Three: Seeing the Forest Through the Trees
Chapter Four: It's Not as Bad as You Think
PART TWO: EXPONENTIAL TECHNOLOGIES
Chapter Five: Ray Kurzweil and the Go-Fast Button
Chapter Six: The Singularity Is Nearer
PART THREE: BUILDING THE BASE OF THE PYRAMID
Chapter Seven: The Tools of Cooperation
Chapter Eight: Water
Chapter Nine: Feeding Nine Billion
PART FOUR: THE FORCES OF ABUNDANCE
Chapter Ten: The DIY Innovator
Chapter Eleven: The Technophilanthropists
Chapter Twelve: The Rising Billion
PART FIVE: PEAK OF THE PYRAMID
Chapter Thirteen: Energy
Chapter Fourteen: Education
Chapter Fifteen: Health Care
Chapter Sixteen: Freedom
PART SIX: STEERING FASTER
Chapter Seventeen: Driving Innovation and Breakthroughs
Chapter Eighteen: Risk and Failure
Chapter Nineteen: Which Way Next?
Afterword: Next Step—Join the Abundance Hub
This post is no longer accepting comments. The answers to the Q&A can be found here.