Bring Your Questions for Edward Humes, author of Garbology
We are quite fond of talking trash, literally: see our "Economics of Trash" podcast, and our "Weird Recycling" episode, and even the "Power of Poop."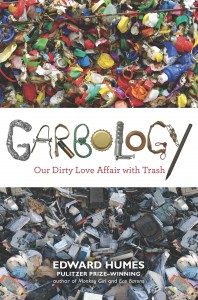 The journalist Edward Humes is also fascinated with trash. His new book Garbology: Our Dirty Love Affair with Trash
 is about the 102 tons of garbage the average American produces in a lifetime. Humes writes about what's in our trash, how different communities deal with it, and how we might could think about trash differently: "Waste is the one environmental and economic harm that ordinary working Americans have the power to change — and prosper in the process." 
Humes has agreed to field your trash questions, so ask away in the comments section and, as always, we'll post his answers in short order. To get you started, here's the table of contents from Garbology:
Introduction: 102 Tons
(or: Becoming China's Trash Compactor)
PART 1. THE BIGGEST THING WE MAKE
1. Ain't No Mountain High Enough
2. Piggeries and Burn Piles: An American Trash Genesis
3. From Trash TV to Landfill Rodeos
4. The Last and Future Kingdom
5. Down to the Sea in Chips
6. Nerds vs. Nurdles
PART 2. THE TRASH DETECTIVES
7. The Trash Trackers
8. Decadence Now
PART 3. THE WAY BACK
9. Pick of the Litter
10. Chico and the Man
11. Green Cities and Garbage Death Rays
12. Put-Downs, Pickups and the Power of No
Epilogue: Garbage In, Garbage Out  
This post is no longer accepting comments. The answers to the Q&A can be found here.