The Economics of Busking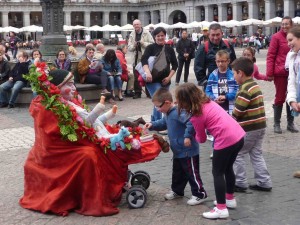 Equilibration in a competitive or monopolistically competitive market is slow.  It takes time for new businesses to perceive excess profits and to enter the market. But not always.
Like many major European venues, the Plaza Mayor in Madrid has many buskers operating.  One busker had a particularly clever shtick:  Dressed up like an infant in a stroller, he would squeal and squawk, especially whenever someone put money his jar.  Many kids, and even this adult, did exactly that.  In the 5 minutes I watched at least 10 people gave him something. BUT:  Near the end of that time, other buskers, who had been observing him, moved their routines closer to his. His flow of customers diminished, with some going to the other, now nearby buskers.  He still was attracting more money than the others, but his excess profits had been reduced by the new competition.