The New Yorker Geoengineers Itself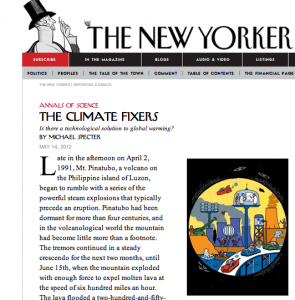 Michael Specter has written a good and interesting New Yorker article about the history and current state of geoengineering, called "The Climate Fixers: Is There a Technological Solution to Global Warming?"
Let me rephrase:
Michael Specter has written a good and interesting New Yorker article about the history and current state of geoengineering, called "The Climate Fixers: Is There a Technological Solution to Global Warming?," which is essentially a New Yorkerized version of Chapter 5 of SuperFreakonomics
, all the way down to the Mount Pinatubo explosion and the reliance on scientists Ken Caldeira and Nathan Myhrvold.
Let me be clear: I have no problem whatsoever with Specter's piece. It is very well done, includes plenty of original reporting in addition to the overlaps with SuperFreak, and is of course not obliged to acknowledge earlier writings on the topic. This is the way journalism is often done.
What's interesting, however, is that The New Yorker was also home to a particularly nasty attack on Chapter 5 of SuperFreakonomics, by the environmental journalist Elizabeth Kolbert, who argued that everything we wrote about climate change and geoengineering was wrong, wrong-headed, and morally bankrupt.
How to reconcile these two articles, separated by three years, in the same publication?
I have two possible explanations (perhaps you can offer more in the comments below):
1. Despite the conventional wisdom, publications like The New Yorker or even the Times are not remotely the monolithic institutions that readers believe, with baked-in ideologies that hold constant from one writer to the next, one editor to the next, or one year to the next.
2. Maybe even an old man like Eustace Tilley is able to keep learning new things and embracing new ideas.
Whatever the case — I love The New Yorker and am happy to see it publish an article like Specter's even if it comes about three years too late for my taste.