What's Your Favorite "Edutainment" Podcast?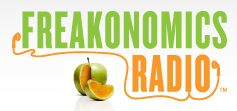 Freakonomics Radio has been nominated as one of the top "edutainment" podcasts on iTunes, and the biggest vote-getter will be featured on iTunes in July. You can vote here. I will warn you, the competition is very stiff — we're up against Radiolab (which would probably get my vote, to be honest), the TED Talks podcast, and some other formidables.
I realize it is the height of hypocrisy for us, the guys who say that voting is overvalued, to ask for your vote. But if you don't mind voting for hypocrites, go ahead and tick the box.