Bring Your Questions for FiveThirtyEight Blogger Nate Silver, Author of The Signal and the Noise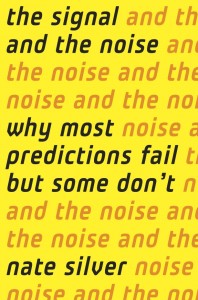 Nate Silver first gained prominence for his rigorous analysis of baseball statistics. He became even more prominent for his rigorous analysis of elections, primarily via his FiveThirtyEight blog. (He has also turned up on this blog a few times.)

Now Silver has written his first book, The Signal and the Noise: Why So Many Predictions Fail — But Some Don't. I have only read chunks so far but can already recommend it. (I would like to think his research included listening to our radio hour "The Folly of Prediction," but I have no idea.)
A section of Signal about weather prediction was recently excerpted in the Times Magazine. Relatedly, his chapter called "A Climate of Healthy Skepticism" has already been attacked by the climate scientist Michael Mann. Given the stakes, emotions, and general unpredictability that surround climate change, I am guessing Silver will collect a few more such darts. (Yeah, we've been there.)
In the meantime, he has agreed to field questions about his new book from Freakonomics readers. So feel free to post your questions in the comments section below, and we'll post his replies in short course. Here, to get you started, is the book's table of contents:
1. A CATASTROPHIC FAILURE OF PREDICTION

2. ARE YOU SMARTER THAN A TELEVISION PUNDIT?

3. ALL I CARE ABOUT IS W'S AND L'S

4. FOR YEARS YOU'VE BEEN TELLING US THAT RAIN IS GREEN

5. DESPERATELY SEEKING SIGNAL

6. HOW TO DROWN IN THREE FEET OF WATER

7. ROLE MODELS

8. LESS AND LESS AND LESS WRONG

9. RAGE AGAINST THE MACHINES

10. THE POKER BUBBLE

11. IF YOU CAN'T BEAT 'EM . . . 

12. A CLIMATE OF HEALTHY SKEPTICISM

13. WHAT YOU DON'T KNOW CAN HURT YOU
 This post is no longer accepting comments. The answers to the Q&A can be found here.