How to Get the Best out of College? Bring Your Questions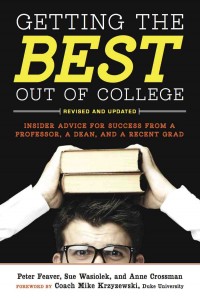 We recently put out a two-part podcast called "Freakonomics Goes to College" (Part 1 here, Part 2 here, and together as an hour-long special). The main question we tried to answer was if, and on what dimensions, a college education is "worth it" — i.e., whether the returns to education are as robust as we've been led to think. (Short answer: yes.) Along the way, we talked to economists including David Card, Betsey Stevenson, and Justin Wolfers, and  poked into the market for counterfeit degrees.
But let's say you're interested in the question from a practical, rather than a theoretical, perspective. That is, let's say you're an actual college student, or related to one, already deep in the throes of higher education, and that your primary question is: Okay, now what? Now that I'm here, what do I do to get the very most out of this expensive, time-consuming endeavor?
Glad you asked. Peter D. Feaver, Sue Wasiolek, and Anne Crossman are the authors of Getting the Best Out of College: Insider Advice for Success From a Professor, a Dean, and a Recent Grad, and they have agreed to field questions from Freakonomics readers. As Feaver writes to us:
"Our argument is that most students focus on getting into college, but do not focus adequately on getting out of college.  They coast, or make bad decisions, or simply fail to take full advantage of what is available to them. Students at prestigious schools may be wasting their money on a mediocre education, whereas a student who chooses wisely can get an excellent education at even a less-celebrated school."
Their key point is that most students focus hard on getting into college but fail to take full advantage of college opportunities once they're in. When asked to weigh in on the question of whether college is generally "worth it," Feaver replied to us: "Our answer to the question is college worth it is 'it depends.'  It depends on choices the student makes while in college."
Post your questions in the comments section below and we'll publish their answers in short course. To prime the pump, here is the book's table of contents:
Chapter 1: "You Expect Me to Live with a Stranger?"
Managing Life in the Dorm

Chapter 2: "Leaving Home, Phoning Home, and the First Trip Back to the Mother Ship" 
Maintaining Relationships Back Home

Chapter 3: " I Have the Perfect Schedule– All My Classes Are on Wednesday" 
Writing the Personal Narrative Called Your Transcript

Chapter 4: Alliance, Fellows, and Clubs, Oh My! 
Engaging in Extracurriculars

Chapter 5: Memories You'll Want to Remember
Maneuvering the Social Scene with Aplomb

Chapter 6: What Professors Wish You Knew 
Paying Attention to the Person behind the Curtain

Chapter 7: Getting What You Came For
Studying Smarter (and Why It Shouldn't Be All That Hard)

Chapter 8: You're Not From Around Here, Are You? 
Advice for international students and their domestic friends

Chapter 9: "I've Never Needed Help Before…" 
Navigating Campus Resources

Chapter 10: This Just Isn't Working 
Delaying, Transferring, Studying Abroad, or Dropping Out
Chapter 11: So What Do You Want to Be When You Grow Up? 
Choosing Your Major vs. Choosing Your Career

Chapter 12: It'll Be Over Before You Know It
Preparing for Life after College 
This post is no longer accepting comments. The answers to the Q&A can be found here.