Is There Such a Thing as "Office Logic"? Bring Your Questions for the Authors of The Org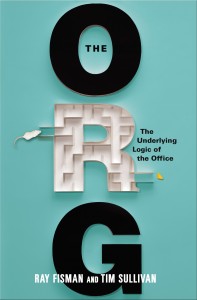 We have been exploring, on this blog and especially in our Marketplace radio segments, the mores of the American office, from bosses to morale to the benefits of working from home.
If these topics interest you even a little bit, then you might want to check out The Org: The Underlying Logic of the Office
, a new book by Ray Fisman and Tim Sullivan. Fisman, who has appeared on the blog before, teaches at Columbia, writes at Slate, and is the co-author of Economic Gangsters; Sullivan is the editorial director of Harvard Business Review Press.
The Org examines a variety of institutions, including the Baltimore Police Department (here's an excerpt), Procter & Gamble, the United Methodist Church, McDonald's, and even Al Qaeda. According to the book's promo materials, you will learn:
The purpose of meetings and why they will never go away
Why even members of Al Qaeda are required to submit travel & expense reports
What managers are good for
How the army and other orgs balance marching in lockstep with fostering innovation
Why it's the hospital administration — not the heart surgeon — who is more likely to save your life
That CEOs often spend over 80% of their time in meetings — and why that's exactly where they should be (and why they get paid so much)
Fisman and Sullivan have agreed to field reader questions on the topic, so have at it in the comments section. As always, we'll post their answers in short order. To give you a better idea of the book's focus, here is its table of contents:
Introduction: A Machine for Getting Stuff Done 

CHAPTER 1: The Outsider

CHAPTER 2: Designing the Job

CHAPTER 3: Putting Together the Organizational Puzzle 

CHAPTER 4: In Praise of Squelching Innovation

CHAPTER 5: What Management Is Good For

CHAPTER 6: The View from the Corner Office

CHAPTER 7: The Economics of Org Culture

CHAPTER 8: Disaster and Change

Conclusion: The Future Org
This post is no longer accepting comments. The answers to the Q&A can be found here.