What You Should and Shouldn't Do When You're Pregnant: Submit Your Questions for Emily Oster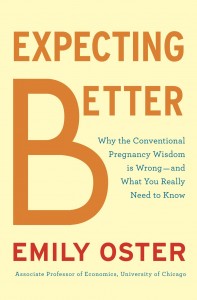 If you've ever been pregnant, or been close to someone who is pregnant, you know how many prohibitions there are.  You can't smoke or drink.  Shellfish are to be avoided.  In my house, conveniently (for the pregnant woman), scooping the cat litter was absolutely out of the question.  Of course, there are also a large number of things you have to do when you are pregnant or are thinking of getting pregnant, like take folic acid.
Is there any evidence to support all these pregnancy rules?  My good friend and colleague Emily Oster (whose research has been featured in SuperFreakonomics and many times on the blog), has just written the definitive book on the subject, entitled Expecting Better: Why the Conventional Pregnancy Wisdom Is Wrong-and What You Really Need to Know
.  She has generously agreed to answer blog reader questions, so fire away in the comments section below and, as always, we'll post her answers in good time!
Here's the Table of Contents to get you started:
Part 1: In the Beginning: Conception

1. Prep Work

2. Data-Driven Conception

3. The Two-Week Wait

Part 2: The First Trimester

4. The Vices: Caffeine, Alcohol, and Tobacco

5. Miscarriage Fears

6. Beware of Deli Meats!

7. Nausea and My Mother-in-law

8. Prenatal Screening and Testing

9. The Surprising Perils of Gardening

Part 3: The Second Trimester

10. Eating for Two? You Wish

11. Pink and Blue

12. Working Out and Resting Up

13. Drug Safety

Part 4: The Third Trimester

14. Premature Birth (and the Dangers of Bed Rest)

15. High-Risk Pregnancy

16. I'm Going to Be Pregnant Forever, Right?

17. Labor Induction

Part 5: Labor and Delivery

18. The Labor Numbers

19. To Epidural or Not to Epidural?

20. Beyond Pain Relief

21. The Aftermath

22. Home Birth: Progressive or Regressive? And Who Cleans the Tub?
This post is no longer accepting comments. The answers to the Q&A can be found here.