Are You Male, With a Job in Finance or Economics, and Want to Get on a "Wilderness Experience" TV Show?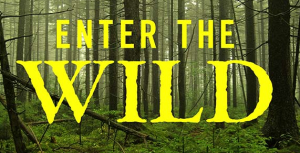 Then today is your lucky day. Here's a request we received from friends at a TV production company:
We're casting the first season of Enter the Wild, an inspiring documentary series for a major cable network.  In the show, a diverse group of real people takes an outdoor survival course taught by one of the country's most acclaimed wilderness experts.

It's not a competition show. It's not Survivor. The series will follow participants as they engage in a fully immersive, three-week course.  Our hope is that everyone will walk away not only with life-saving skills, but a new perspective on their lives and their relationship with nature.

We'd love to include a the point of view of a male with a work background in financial markets or economics in this wilderness experience. You can apply or get more information at our website.
A "casting treatment" from the company gives further information about the types of characters they are looking for. If I were a young anthropology researcher, I would be all over this thing — for what it says about the people who make, watch, and appear on modern TV. Here are a few of my favorites:
THE SEARCH FOR INSPIRATION

Those who have lost their enthusiasm for life: they are bored, burned out and /or numb.

Examples include: 

A trial lawyer on the verge of burn-out, who wants to renew his spirit.

An overworked or workaholic stockbroker looking for something more

A timid soccer mom, looking to build a great sense of self worth 

A bored Corporate Executive with a big ego, looking for a challenge
And:
THE FISH OUT OF WATER

Those who are so acclimated to our post industrial/ technology age  and/or urban life  that living in nature is akin to living on Mars. 

Examples include:

A Boston Mechanic / Plumber

Computer genius

Astronomer/ Rocket scientist

Professor of poetry or literature

Factory worker

And:
THE DISENFRANCHISED/ THE OUTSIDER

People who through their own doing or by bad luck, have found themselves on the outskirts of society.  They may have self-loathing and/or difficulty trusting others.

Examples Include:

An addict who is barely hanging on to the clean life

A former foster care kid who still deals with issues of abandonment and trust, and wants to be more self-reliant but also hopes to learn to rely on what's around her.

A young guy from a bad neighborhood, who got in with wrong crowd, and wants to get out

A poor and/or homeless man looking for hope