In Praise of the Music in Freakonomics Radio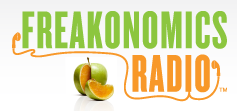 I think that our engineer/mixmaster David Herman does a fantastic job of making Freakonomics Radio podcasts sound great (no matter what you may think of all the talking that interrupts the music and other audio effects).
But there is of course a lot of heterogeneity in personal preferences. Here's an e-mail we just received from a listener:
Heard your show for the first time yesterday on Tipping.  Loved all the speaking clips and analysis. HATED the musical interludes so much that we (my husband, kids and I) cannot fathom ever listening again unless they are removed. They gave us a bad headache and were so distracting from the content that we had to turn the show off before the end.  Please consider removing them. Thanks.
Afraid we just lost a family of listeners, as we won't be removing all music from our episodes. Happy to say this is an uncommon complaint; much more common is an e-mail asking where to get hold of the music that appears. FWIW, every time we put out a podcast, the accompanying blog post includes a transcript of the episode which lists the music.