Product Placement at Universities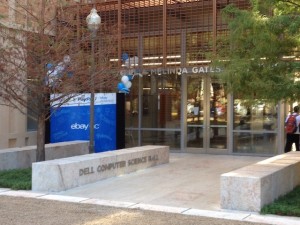 Public higher education in the U.S. is not in good shape—and the main reason is lack of funds.  States will not increase their funding, and often they severely limit tuition increases.  My university appears to have hit upon a solution:  product placement and direct advertising.  The new computer building, the Gates Building, is part of the Dell Computer  Science Center, and has a Dell logo and signs for eBay and PayPal in front of the building.
But why stop here?  Five hundred students stare at me for 1-1/4 hours 28 times each fall semester.  The university could ask me to advertise—wear a cap, or a t-shirt, just like a tennis star—showing the product of whichever companies bid the most for the rights to advertise on my apparel during class.  While I would probably insist on some of the royalties, the bilateral monopoly between the university and me would surely raise funds for the university.  With enough professors required to do this, public universities could alleviate some of their financial problems. No doubt readers have similar clever ideas for product placement that would help fund public universities, albeit at some cost in dignity.