It's All in the Framing
Reader Steve Cebalt from Fort Wayne, Ind., sent in this picture, taken at a mega-supermarket near his home.  Here's what he  had to say about it: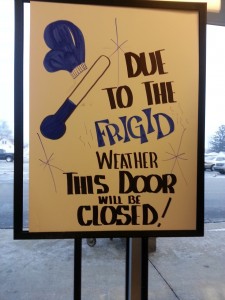 I was struck by the unapologetic, commanding, imperative, unexplanatory tone of that message. I liked it and thought it was very effective communication. Understand that this is a mega-supermarket, and that closing this exit imposes a major inconvenience on all shoppers and a hazard on elderly people who have to traverse to the opposite exit and then back to their car in blizzard conditions, so the closure of this exit door is a major issue for the store. Somehow I find the store's imperative tone more satisfying than anything else they possibly could have said. But why does it intrigue me, and why do I find it more satisfying than the overwrought "customer-centric" tone of most similar communications I see? I have my theories, but I'd be interested in whether your readers have reactions. By the way, I discussed this with the store manager, who thought I was nuts. Not really. Actually, he said they gave that sign a lot of thought. He said the wording was very deliberate because they knew that closing that door was a major decision that affected customers significantly during the worst weather of the year…Safety? Mechanical failure? OSHA regulations? It could be a lot of things, right?
Well, Freakonomics readers, what do you think of the language? And what's your guess as to why the store opted to block off the door?