What is "Parentology"? Bring Your Questions for Dalton Conley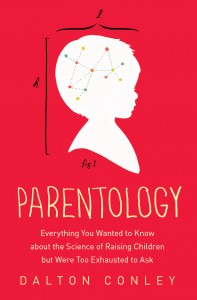 Last year, we talked to NYU sociologist Dalton Conley and his two children, E and Yo, on our podcast "How Much Does Your Name Matter?" Their names — E Harper Nora Jeremijenko-Conley and Yo Xing Heyno Augustus Eisner Alexander Weiser Knuckles Jeremijenko-Conley — are a bit of an experiment:
CONLEY: Of course it's hard to separate out cause and effect here until Kim Jong-Un allows me to randomly assign all the names of the North Korean kids…but my gut tells me that it does affect who you are and how you behave and probably makes you more creative to have an unusual name.
Conley's approach to naming his kids is certainly interesting (and highly unusual), to say the least. As it turns out, Conley has the same approach to parenting. He chronicles his unorthodox, research-inspired parenting in his new book Parentology: Everything You Wanted to Know about the Science of Raising Children but Were Too Exhausted to Ask
. The book is out today, and Conley has agreed to answer blog reader questions about the book, so ask away in the comments section below. As always, we'll post his answers in short course.
Here's the table of contents to get you started:
Parentology 101 Syllabus

Preface: "Parentology" Defined                                                       

1. What Not to Expect When You're Expecting

2. Tying the Knot (and I Don't Mean Marriage—or the Umbilicus)

3. But Maybe You Should Name Your Boy Sue:What's Not in a Name

4. The Best Thesaurus Is a Human Thesaurus: How to Read to Your Kids

5. Practicing the Delicate Arts of Extortion and Bribery (How Else Are American Children Supposed to Catch Up to the Finnish People in Math?)

6. GET THEM THE PUPPY! GET THEM THE PUPPY!

7.  Shut the F* Up, Dad! Discipline (or Lack Thereof) 

8. Turn Your Feral Child into a Nice American Capitalist (You Know You Want To)

9. If It's Organic, Don't Panic—and Other Tips I Learned in Berkeley for Drugging One's Kids

10. Go Ahead and Get Divorced—Your Kids' Genes Will Never Notice