Print, Persuade and Post
My coauthor (and 16-year-old daughter) Antonia Ayres-Brown just published a piece in Slate about a project that started 5 years ago when we bleg'd Freakonomics readers to tell us about how McDonald's refers to Happy Meal toys. Antonia was disturbed by the kinds of questions we encountered when we ordered Happy Meals at the drive-thru. We'd be asked things like "Is it for a boy or girl?" or "Do you want a girl's toy or a boy's toy?"
I asked readers whether they encountered similar questions.  According to seventy nine reader responses, approximately one-fifth of the time McDonald's employees did not ask a toy-related question.  But when employees did ask a toy-related question:
47.7%                    Asked "Is It for a Boy or Girl?"
31.8%                    Asked "Do You Want A Boy's Toy or a Girl's Toy?"
15.9%                    Described the toys in non-gender terms.
I've waited this long to report the results because Antonia have I have been engaged in a long-term project to encourage McDonald's to describe the toys without reference to children's gender.  [You can read about our efforts – including our unsuccessful suit against McDonald's before the Connecticut Human Rights Commission in this law review draft.]
And I'm happy to report that we've made progress.  As Antonia wrote in her Slate piece:
On December 17, 2013, I received an amazing letter back from McDonald's Chief Diversity Officer, Patricia Harris, saying, "It is McDonald's intention and goal that each customer who desires a Happy Meal toy be provided the toy of his or her choice, without any classification of the toy as a 'boy' or 'girl' toy and without any reference to the customer's gender. We have recently reexamined our internal guidelines, communications and practices and are making improvements to better ensure that our toys are distributed consistent with our policy."

Even more heartening, DoSomething.org just posted a photo of a manager's notice on the wall of an actual McDonald's store instructing employees: "When a customer orders a happy meal you must ask 'will that be a My Little Pony toy? Or a Skylanders toy?'. We will no longer refer to them as 'boy or girl toys.'"
Rap Genius has posted an exegesis of the McDonald's letter and here's a photo of the manager's notice: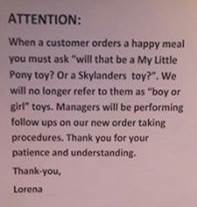 To my mind, this is evidence that McDonald's is really trying.
But it's difficult to achieve full compliance across their massive franchise network of thousands of restaurants.  As the Diversity Officer explained:
I hope you can appreciate even with additional communication and training and improvements to our processes, it may take some time to fully see the results of our efforts in more than 14,000 restaurants in the U.S.  It is our intention to continue to monitor to ensure that our policy is being implemented and followed throughout our system.
As we move forward, crowd-sourcing may be the easiest way to assess whether the franchisor's best intentions are being put into franchisee practice.  Any reader can simply order a Happy Meal to find out.
Here's a link to an online survey where you can report what happened after you placed your order.
Crowd-Sourcing Compliance
This past weekend, Antonia went to a local McDonald's and upon ordering a Happy Meal at the drive-thru was asked, "Is it for a boy or girl?".  She then went inside the store and asked to speak with the manager.  She gave him a copy of the Diversity Officer's letter and he readily agreed to look into making the change.
Freakonomics nation, if you'd like to help us crowd-source compliance, you can follow Antonia's lead.  Just follow the three P's: print, persuade, and post. Simply print a copy of McDonald's new Happy Meal policy and take it with you next time you visit McDonald's. If your local store is still asking gendered Happy Meal questions, ask to speak with the manager, give her or him a copy of the letter, and respectfully try to persuade the manager to follow McDonald's stated policy.  And finally, post what happens – both as a comment here and by filling out this survey.  Antonia's Slate article has struck a nerve with more than 10k Facebook shares.  A few hundred people following up by visiting a local McDonald's with a copy of her letter might have a big impact.
I want to praise McDonald's for its commitment to change, and interested consumers can now help the Chief Diversity Officer assure compliance.
[By the way, Antonia is the same daughter about whom I wrote concerning the "dad or daughter" songwriting contest.  You can hear me (lamely) play a guitar riff at the bridge of Friendzone.]