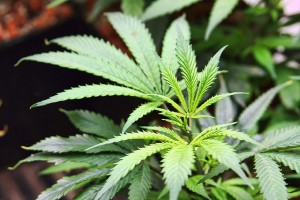 In states like California, where medical marijuana is a big business, dispensaries often feature dozens of kinds of marijuana. Each has it own (supposed) qualities, often reflected in the price per gram. And these names, while colorful, are pretty standardized: newspapers like the LA Weekly run pages of ads that list prices for "White Widow," "Skywalker OG," "Strawberry Kush," and "Charlie Sheen".
Can you trademark a strain of marijuana to keep a competitor from copying your "brand"? The answer is more complicated than you might think. 
First, names like Strawberry Kush are not necessarily brands, but more like plant varieties, such as Meyer lemon or Alphonso mangoes. Plant varieties in general cannot be trademarked. Instead, breeders essentially get a form of plant patent. Growers and breeders can add a trademark on top of that, but the underlying plant variety name ultimately goes into the public domain for all to use. In other words, Fuji apples are a variety; Ranier Brand Fuji Apples is a trademark. A competitor can't call their Fuji apples "Ranier", but nothing stops a competitor from identifying their apples as Fujis.