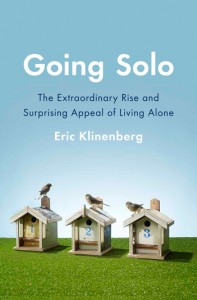 This is the first installment of a new Freakonomics.com feature from Sudhir Venkatesh.  Each AI: Adventures in Ideas post will showcase new research, writing, or ideas.
A new book is garnering significant attention. In Going Solo
, Eric Klinenberg, a sociologist at NYU, looks at a growing trend in contemporary adulthood: living alone. How we live, Klinenberg argues, is shifting, and it could be one of the most important developments of the last half-century.