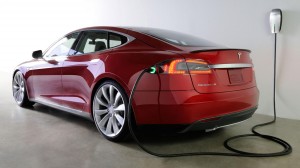 Until recently, tiny Norway (population 5 million) has been the second largest market for Teslas (after the U.S.). Earlier this year, Tesla's Model S became the best-selling car in the country ever for a one-month period. Not bad for a luxury electric vehicle whose base price in Norway is over $100,000. What's behind this Tesla boom?
That's the question we try to answer in this episode of Freakonomics Radio. It's called "How Can Tiny Norway Afford to Buy So Many Teslas?" (You can download/subscribe at iTunes, get the RSS feed, or listen via the media player above. You can also read the transcript; it includes credits for the music you'll hear in the episode.)
It turns out that Teslas, along with other electric vehicles, are massively subsidized by the Norwegian government.