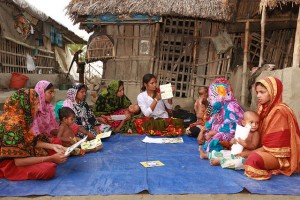 Here's $2.5 trillion. You have 15 years to spend it. How do you distribute this money in a way that will achieve the most good for the world?
This isn't a hypothetical. In September 2015, the United Nations will set its Post-2015 Development Goals,  continuation of the Millennium Development Goals it set in 2000.
But with every interest group imaginable (and then some) scrambling for a slice of the  aid pie, how do you decide which goals are the most worthy?
That's the question addressed by this week's episode. It's called "Fixing the World, Bang-for-the-Buck Edition." (You can subscribe to the podcast at iTunes, get the RSS feed, or listen via the media player above. You can also read the transcript, which includes credits for the music you'll hear in the episode.)