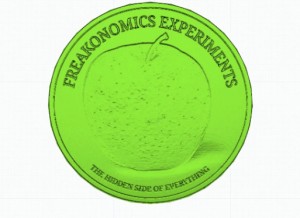 Our latest Freakonomics Radio podcast is called "Would You Let a Coin Toss Decide Your Future?" (You can download/subscribe at iTunes, get the RSS feed, or listen via the media player above. You can also read the transcript below; it includes credits for the music you'll hear in the episode.)
In it, Stephen Dubner grills Steve Levitt about a new project called Freakonomics Experiments. (Levitt blogged about it here and stopped by Marketplace last week.) The basic idea is to learn more about how people make decisions, especially when they're on the margin. So: if you're struggling with a decision, large or small, you can bring your question to FreakonomicsExperiments.com, where a random coin flip will help solve your dilemma. You also become part of the scientific experiment by taking follow-up surveys and letting the research team know how the decision turned out.
The idea originated from the flood of emails Dubner and Levitt received in response to our "Upside of Quitting" podcast. Many listeners said the show had emboldened them to quit something they no longer wanted to do. In this podcast, you'll hear from two of those quitters: former racecar driver Daniel Herrington and ex-runner Serra Mentessi.