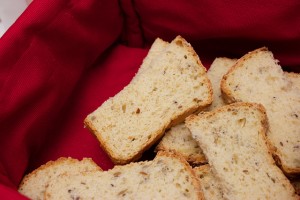 This week's episode of Freakonomics Radio is called "There's No Such Thing As A Free Appetizer." (You can subscribe to the podcast at iTunes, get the RSS feed, or listen via the media player above. You can also read the transcript, which includes credits for the music you'll hear in the episode.)
It was inspired by an e-mail from a listener named Larry Tingen, a college math instructor:
My fiancee and I are avid listeners and lovers of Freakonomics. We were at a Mexican restaurant this weekend and the first thing that happens is we are given chips and salsa -- even before drink orders. Kelli asked me why I thought so many restaurants serve you free food (e.g. chips and salsa, bread, etc.) prior to taking your order? I couldn't come up with a good reason. To me, it seems to go against the restaurant's financial interest because most people will "fill up" on the free food, then order a smaller/cheaper meal. ... Does the free food make customers more likely to order meals that have a better profit margin? What's going on here?