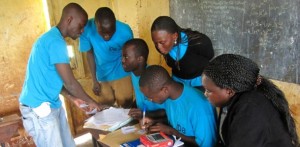 Our new podcast is called "Fighting Poverty With Actual Evidence." (You can subscribe to the podcast at iTunes, get the RSS feed, or listen via the media player above. You can also read the transcript; it includes credits for the music you'll hear in the episode.)
Not long ago, we put out a podcast that asked the question "Would a big bucket of cash really change your life?" That episode looked at whether winning a land lottery in antebellum Georgia significantly altered a given family's financial future. University of Chicago economist Hoyt Bleakley, who studied that 1832 lottery, told us this: 
BLEAKLEY: We see a really huge change in the wealth of the individuals, but we don't see any difference in human capital. We don't see that the children are going to school more. If your father won the lottery or lost the lottery the school attendance rates are pretty much the same, the literacy rates are pretty much the same. As we follow those sons into adulthood, their wealth looks the same in a statistical sense. Whether their father won the lottery, lost the lottery, their occupation looks the same. The grandchildren aren't going to school more, the grandchildren aren't more literate. 
But one case study can't definitively answer the larger question: what's the best way to help poor people stop being poor? That's the question we address in this new podcast. If features a discussion that Stephen Dubner recently moderated in New York City with Richard Thaler and Dean Karlan.