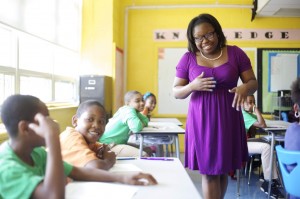 We've all heard the depressing numbers: when compared to kids from other rich countries, U.S. students aren't doing very well, especially in math, even though we spend more money per student than most other countries. So is the problem here as simple as adding two plus two? Is the problem here that our students aren't getting very bright simply because … our teachers aren't very bright?
That's the question we ask in our latest Freakonomics Radio episode. It's called "Is America's Education Problem Really Just a Teacher Problem?" (You can subscribe to the podcast at iTunes, get the RSS feed, or listen via the media player above. You can also read the transcript, which includes credits for the music you'll hear in the episode.)
The cast of characters:
+ Joel Klein, the former New York City schools chancellor (and head of the U.S. Dept. of Justice's Antitrust Division) who now runs Amplify, a News Corp education-technology startup. Klein's new book is Lessons of Hope: How to Fix Our Schools, which was so informative and impressive that I blurbed it. In its review of the book, Newsweek says that Klein "politely rips the status quo," which is exactly right.