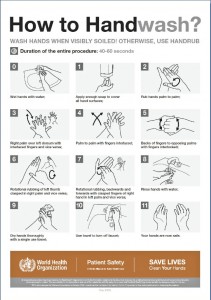 Our latest podcast is called "What Do Hand-Washing and Financial Illiteracy Have in Common?" (You can download/subscribe at iTunes, get the RSS feed, listen live via the media player above, or read the transcript below.) It explores the idea that most problems are solved by more education -- except when they're not.
You'll hear Michael Langberg, chief medical officer at Cedars Sinai Medical Center in Los Angeles, talk about why doctors there (and elsewhere) routinely fail to wash their hands despite the evidence suggesting they must:
LANGBERG: There's something in the human condition that somehow disconnects what is really good evidence from personal choice and habit. And I don't know why that is. I'm not a psychiatrist; my field is internal medicine. I just have the observation. Physicians are no different.