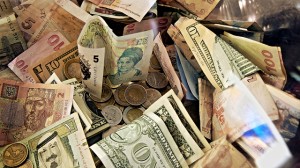 Why does poverty persist? Is economic mobility still a real part of the American dream? And if you gave every poor family a big bucket of cash, would it substantially change the trajectory of its future?
Those are some of the questions we ask in our latest podcast, "Would a Big Bucket of Cash Really Change Your Life?" (You can subscribe at iTunes, get the RSS feed, or listen via the media player above. You can also read the transcript; it includes credits for the music you'll hear in the episode.)
It attempts to answer an e-mail we received from a reader named Thomas Appleton:
What would be the socioeconomic effects if the 50 wealthiest Americans each gave $50,000 to 50 different American families, repeating this practice annually with new beneficiaries? How about if these families were targeted in a limited area; say, across some of the poorest neighborhoods in Brooklyn?