Boo…Who? (Ep. 48)
In our latest podcast, "Boo…Who?", we deconstruct the age-old act of booing. (You can download/subscribe at iTunes, get the RSS feed, listen live via the media player above, or read the transcript here.)
The first thing we wanted to know: What is worthy of a boo? An umpire's bad call? A lousy rendition of the national anthem? Other booers?
Former Pennsylvania Gov. Ed Rendell tells Stephen Dubner that any politician throwing the first pitch at a baseball game is asking for it:
RENDELL: Politics and sports don't mix. In fact, sports is in some ways the antithesis of politics because winning and losing is decided on the field, not how much money you raise or things like that. And politicians should generally stay away.
Rendell shares his rules for booing, and why Philadelphia, the city he once presided over as mayor, doesn't deserve its reputation as the city with the meanest sports fans. Philadelphians are passionate, Rendell argues, but they don't make exceptions for poor performance, not even for Santa Claus.
Lackluster performances sure don't get a pass in sports, but they often do in theater. This is especially true in Broadway houses, says Wall Street Journal drama critic Terry Teachout. He says when standing ovations far outnumber booing, something is wrong. Teachout explains why he thinks people don't boo at Broadway shows:
TEACHOUT: Tickets on Broadway cost an enormous amount. So that people feel I think obliged to vest themselves in the performance in a way that they might not if the ticket cost half as much. If you're putting out a hundred and twenty-five dollars for your seat, you want your show to be good. And I think that there may be some built-in bias there that inclines you to enjoy what you see.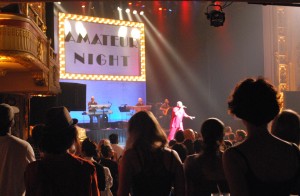 Perhaps — although tickets for sporting events now cost a ton too, and that hasn't stopped the booing there.
In any case, not all theaters are protected from the boo. We visited Amateur Night at Harlem's famed Apollo Theater, where the crowd is expected to vote with its voice. The Apollo has seen many future stars perform, but among those who got booed: James Brown, Luther Vandross and a young Lauryn Hill.
That might seem disheartening, but Steve Levitt puts a happy face on it:
LEVITT: I've never been booed, but I think that's a bad thing, because I think in order to get booed, people actually have to have high expectations about you.
Also in this episode: Rider University sociologist Richard Butsch talks about a lost tradition called audience sovereignty; author Robert Lipsyte (An Accidental Sportswriter) tells us how he failed to boo Luciano Pavarotti; UCLA sociologist Steve Clayman shows how to turn a boo back on the booers; and former San Francisco Giants shortstop Johnnie LeMaster recalls the soul-crushing heckling he got from his own fans, and how he turned it into a lasting boo-merang.