Can You Be Too Smart for Your Own Good? And Other FREAK-quently Asked Questions (Ep. 127)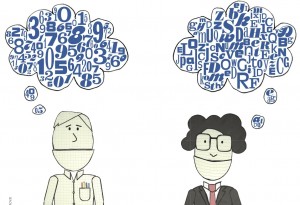 Our latest podcast is called "Can You Be Too Smart for Your Own Good? And Other FREAK-quently Asked Questions." (You can download/subscribe at iTunes, get the RSS feed, or listen via the media player above. You can also read the transcript; it includes credits for the music you'll hear in the episode.)
In this episode Steve Levitt and Stephen Dubner field questions from podcast listeners and blog readers. (You can listen to earlier FAQ episodes here, here, here, here and here.) In this installment, they talk about circadian rhythms (no, not cicada rhythms) and whether modern life is killing us; the incentives for curing cancer; if you can be too smart for your own good — which leads to a discussion of marriage markets and autism; whether legalizing gay marriage would affect the economy; and why people can be trusted to pay for bagels but not for music.
Once again, thanks for all of the great questions. As Levitt has said before, he really loves doing these FAQs, because …
LEVITT: The questions we get are so strange that you never could have made them up. 
Keep 'em coming!