Failure Is Your Friend (Ep. 169)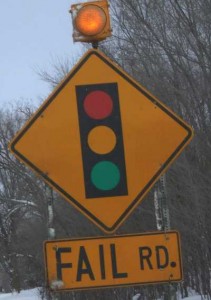 This week's episode is called "Failure Is Your Friend." (You can subscribe to the podcast at iTunes, get the RSS feed, or listen via the media player above. You can also read the transcript, which includes credits for the music you'll hear in the episode.)
This is a natural followup to last week's episode, "The Upside of Quitting." Why are so many people so reluctant to quit projects or jobs or relationships that have soured? One reason, Stephen Dubner argues, is that we tend to equate quitting with failure, and there's a huge stigma attached to failure. But … should there be? In their new book Think Like a Freak
, Dubner and Steven Levitt  argue that perhaps we're not thinking clearly about failure. Failure, they say, can be your friend:
LEVITT: I always tell my students — fail quickly. The quicker you fail the more chances you have to fail at something else before you eventually maybe find the thing that you don't fail at.
When failure is stigmatized, people will do everything they can to avoid it, often at great cost. Levitt tells the story of a large multinational retailer that was opening its first store in China — and how the company's executives couldn't express their misgivings to a bullish boss. Then we hear a story in which the boss's "go fever" had far more tragic ramifications: the 1986 launch of the space shuttle Challenger. Allan McDonald, an engineer on the shuttle project and author of the book Truth, Lies, and O-Rings
, tell us how his attempts to delay the launch were overruled:
McDONALD: What really happened was typical I think in large bureaucratic organizations, and any big organization where you're frankly trying to be a hero in doing your job. And NASA had two strikes against it from the start, which one of those is they were too successful. They had gotten by for a quarter of a century now and had never lost a single person going into space, which was considered a very hazardous thing to do. And they had rescued the Apollo 13 halfway to the moon when part of the vehicle blew up. Seemed like it was an impossible task, but they did it. … So it gives you a little bit of arrogance you shouldn't have. And a huge amount of money [was] involved. But they hadn't stumbled yet and they just pressed on. So you really had to quote "prove that it would fail" and nobody could do that.
You might think that it would be rare that someone involved in a project could, like McDonald, foresee exactly how it might fail. But is it? And might there be a way to look around the corner and find out how you might fail before you go to the trouble of doing so?
Gary Klein has one suggestion. He is the author of Seeing What Others Don't: The Remarkable Ways We Gain Insights
and a proponent of what he calls the "pre-mortem." While many institutions conduct a post-mortem to examine why a given project has failed, Klein walks us through an exercise that can spot potential failures before things have gone wrong.
So get out there and start failing, people — failing well, failing fast, and failing productively — so that today's failure can make way for your tomorrow's triumph.