How Biased Is Your Media? (Ep. 62)
When it comes to politics and media, the left argues that the right is more biased than the left while the right argues that the left is more biased than the right. Who's right?
That's what we try to answer in our latest podcast, "How Biased Is Your Media?" (You can download/subscribe at iTunes, get the RSS feed, listen live via the media player above, or read the transcript.) In a way, this episode is a follow-up to a podcast we put out a few months ago called "The Truth Is Out There, Isn't It?," which examined how we choose to believe what we believe about a variety of important issues. In this episode, we apply that same idea in a small-bore fashion, going after media bias.
You'll hear from a variety of media practitioners and academic scholars who've been brave (foolhardy?) enough to wade into the media-bias debate. Among the practitioners: Glenn Beck (who's been on Freakonomics Radio before), Ann Coulter, Juan Williams, and Andrew Rosenthal, the editorial page editor at The New York Times.
Everyone of course has his opinion about media bias, but we were trying to get beyond opinion. As Steve Levitt points out, this is no simple matter:
LEVITT: Measuring media bias is a really difficult endeavor because unlike what economists usually study, which are numbers and quantities, media bias is all expressed in words.
So we look at some of the recent empirical work on media bias, in which research scholars use words as data to better understand whether a) media bias exists; b) if so, to what degree, and in what directions; and c) what purpose/s it serves. In a 2004 paper, Tim Groseclose and Jeff Milyo took a stab at media bias; that paper became the launching point of Groseclose's book Left Turn: How Liberal Media Bias Distorts the American Mind
. You'll hear from Gloseclose about his methodologies and findings, and you can read an earlier Q&A with him here.  Here's how Levitt has described the Groseclose-Milyo analysis:
LEVITT: Tim Groseclose and Jeff Milyo estimate how left-wing or right-wing media outlets are based on what research by think tanks they mention in their stories. They then compare that to the think-tank research that elected officials cite when they talk on the House or Senate floor, to calibrate where the media fits relative to the Congress. They find some interesting answers: most of the media does have a liberal bias (throwing out the editorial page, the Wall Street Journal is the most liberal of all, even beating the New York Times!). Fox News is one of the few outlets that is right of center.
Here's how 20 major media outlets rank on Groseclose and Milyo's slant scale, with 100 representing the most liberal and zero the most conservative:
| | | | |
| --- | --- | --- | --- |
| | ABC Good Morning America | 56.1 | |
| | ABC World News Tonight | 61.0 | |
| | CBS Early Show | 66.6 | |
| | CBS Evening News | 73.7 | |
| | CNN NewsNight with Aaron Brown | 56.0 | |
| | Drudge Report | 60.4 | |
| | Fox News Spec. Rept. w/ Brit Hume | 39.7 | |
| | Los Angeles Times | 70.0 | |
| | NBC Nightly News | 61.6 | |
| | NBC Today Show | 64.0 | |
| | New York Times | 73.7 | |
| | Newshour with Jim Lehrer | 55.8 | |
| | Newsweek | 66.3 | |
| | NPR Morning Edition | 66.3 | |
| | Time Magazine | 65.4 | |
| | U.S. News and World Report | 65.8 | |
| | USA Today | 63.4 | |
| | Wall Street Journal | 85.1 | |
| | Washington Post | 66.6 | |
| | Washington Times | 35.4 | |
And here's a chart of some well-known Congressmembers' "Political Quotients," based on their voting records. Again, 100 represents the most liberal, zero is the most conservative. (In the episode, you'll hear where Levitt, Groseclose, and I rank on this "PQ" scale. You can take a quiz to find out your own PQ here.)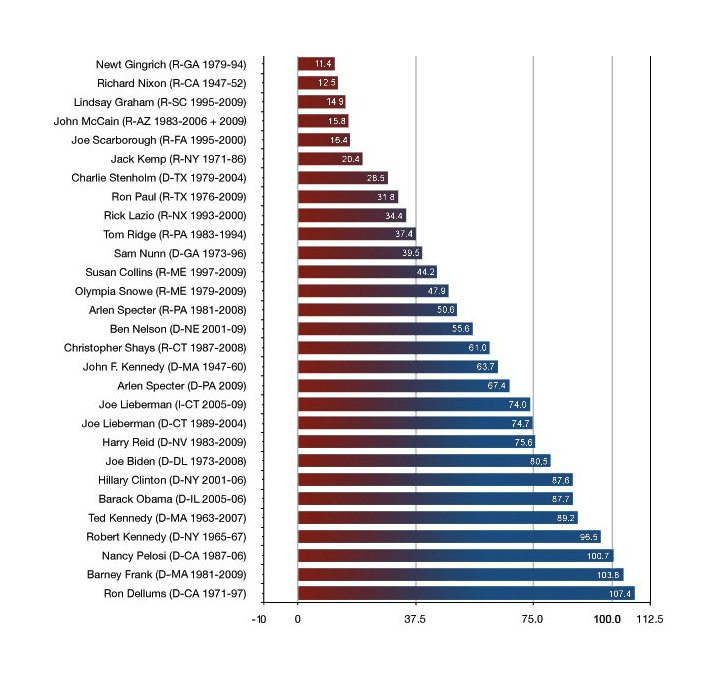 University of Chicago economists Matthew Gentzkow and Jesse Shapiro have also done some interesting research on media bias. In a 2010 study, they used text as data to look at common Democratic and Republic phrases in Congress to help determine which way newspapers lean — and, most important, why. Here are some common Democratic phrases: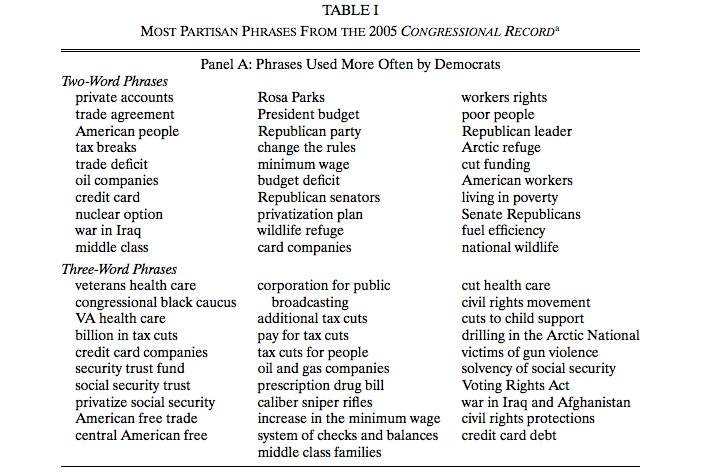 And some of the phrases favored by Congressional Republicans: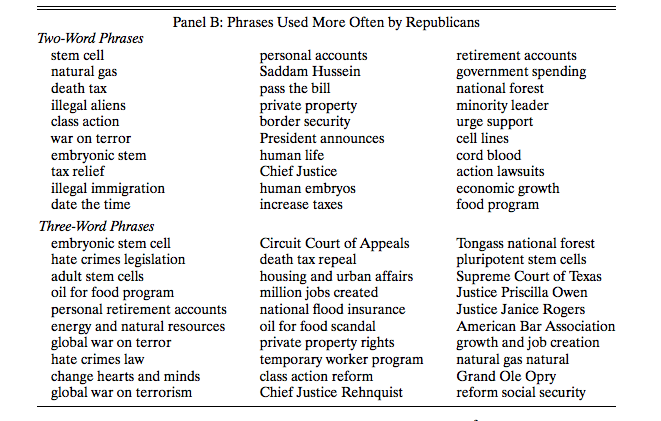 In this episode, you'll also hear from Danny Kahneman, author of Thinking, Fast and Slow
, on why bias is hard for each of us to see.