How Safe Is Your Job? (Ep. 194)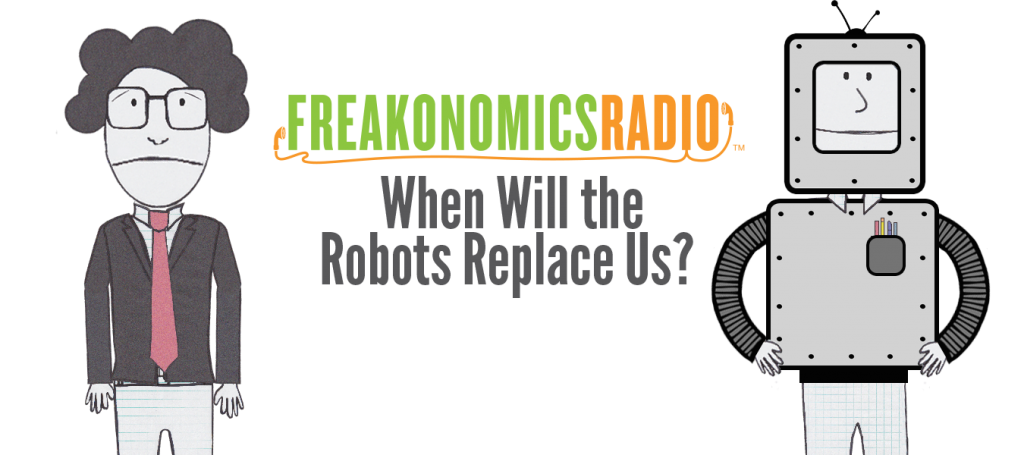 Economists preach the gospel of "creative destruction," whereby new industries — and jobs — replace the old ones. But in this era of technological wonder, has creative destruction become too destructive?
That's the question we ask in our latest podcast, "How Safe Is Your Job?" (You can subscribe to the podcast at iTunes or elsewhere, get the RSS feed, or listen via the media player above. You can also read the transcript, which includes credits for the music you'll hear in the episode.)
It's an expansive conversation with economists, historians, a roboticist-turned-cartoonist, and a special guest who is not quite human. You will hear from:
+ David Autor, an MIT labor economist who has written well on employment growth and technological change. While acknowledging that a lot of middle-class jobs are vanishing, and that most job growth is among low-wage workers, Autor is generally an optimist: "[T]he interactions by which technological changes lead to changes in employment are really rich and complex," he tells us, "and it's not simply a matter of, you know, a machine does the job, therefore the worker doesn't do the job, therefore there are fewer workers needed."
+ John Komlos, a retired professor of economics from the University of Munich who has written a working paper called  "Has Creative Destruction Become More Destructive?". His answer to that question is a resounding "yes." Unlike Autor, Komlos believes that the current technological revolution, unlike past revolutions, is a net job destroyer — and worse. "Innovation is not going to give us nirvana or a just society or a good economy," he says. "The 'selfie moment' destroyed Kodak, which at its peak employed 145,000 people. And these were mostly middle-class jobs, you see. Apple is employing 47,000 people and that is an iconic company today. And it's not going to be a job creator in the next foreseeable future. Facebook is employing 7,000 people. That's it!"
+ Randall Munroe, creator of the webcomic xkcd and author of What If?: Serious Scientific Answers to Absurd Hypothetical Questions. Munroe, who used to work in a NASA robotics lab, entertains our question about the likelihood of a robot apocalypse. (Good news: it's unlikely.)
You'll also hear the story of the rise and fall of the piano industry, a story that is relevant in many ways to our current economic patterns. It's told by the historian Richard Lieberman and the N.Y. Times reporter James Barron, each of whom has written a book about the Steinway piano company. Lieberman's is called Steinway and Sons
; Barron's is Piano: The Making of a Steinway Concert Grand
.
Not that anyone cares, but David Autor assures me that my job — writer, podcaster, etc. — is perfectly safe. But a pesky interloper named Jasmine (who has visited our podcast before) disagrees.